C++ Artificial intelligence Source Code
Artificial intelligence
With this system, which stands out with ease of use, Google says you can start by training your GPU on the Desktop for the product you want to develop and easily switch to the mobile operating stage. TensorFlow can learn tasks such as visual recognition, speech recognition and translation.
For TensorFlow developed by Google using C++ programming language, it is possible to develop new applications using C++ or Python languages. However, the fact that the system is open source can also prevent the use of different languages.
Although deep learning is the first application of Tensorflow, it is also stated that unlike distbelief, artificial intelligence can be adapted to the reinforcement learning and logistic regression fields.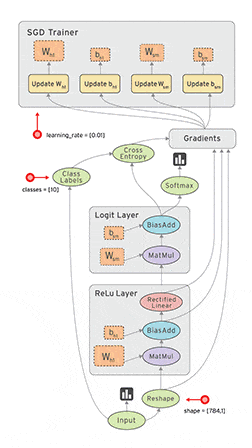 Google has made Tensorflow open-source with a separate library, related tools, lessons and examples, and thus paves the way for people and institutions to work on the system. However, it is worth remembering that Google has opened only one part of Tensorflow for the time being and that this part works with only one computer. So if your goal is to develop enterprise applications using large-scale data, you may not have the chance to teach your models to a large number of machines. Google, however, says it can make an open source version that runs on hundreds of machines in the future.
Artificial intelligence titles such as natural language processing, writing or visual content, suggestion systems, etc.have been used by Google for a long time. The deep learning infrastructure that enables these systems to work was opened to all researchers and developers around the world in open source code in November 2015.
In a short period of time, Tensorflow has become the most widely used and widely used learning library in the field of deep learning.
In addition to this, Tensorflow developed with C++ language provides an interface to many programming languages, such as Python, Java, as well as the ability to work on multiple computers at the same time, and the ability to work on Apple iOS phones and tablets with the latest developments are among the important pros.
In addition to providing ready algorithms for signal processing, machine learning, and image processing, Torch also offers researchers an essential system for deep learning and modeling of layered neural networks, leading to GPU (GPU Processing Unit) support.
Torch, developed in Lua software, can be modeled with another scripting language called LuaJIT.